Aims of ELSI2.0
TOP TIP! If you prefer to work in your own language, click 'MORE ∨' on the banner at the top of any page, and select your desired language from the drop down box on the left of the screen.
Launched as a "concept" in Science (11 May 2012: Vol. 336 no. 6082 pp. 673-674), the ELSI2.0 Collaboratory aims to anticipate and address the Ethical, Legal and Social Implications (ELSI) of high impact research in the life sciences, and accelerate the translation of ELSI research findings into practice and policy around the world. One way we aim to achieve this is by providing an infrastructure for international collaboration in real time, using web 2.0 technologies. This site provides an overview of ELSI2.0 activities, but there's a lot more going on behind the scenes. We encourage anyone who shares our vision to become a member and join our mailling list.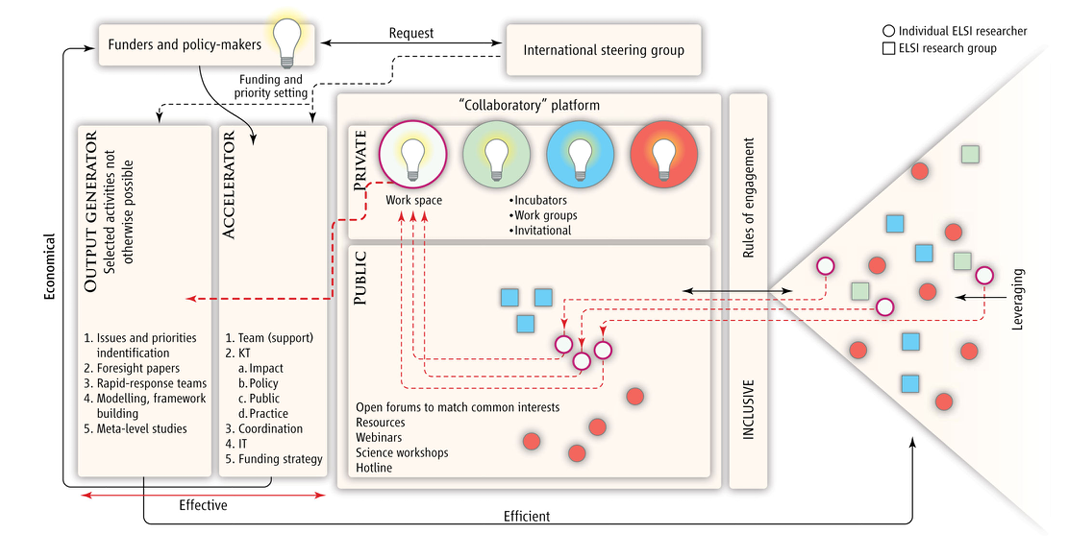 Achieving global ELSI
FACILITATE COLLABORATION: ELSI2.0 members interact in real time through Making Connections groups. These are groups set up by ELSI researchers sharing ideas and working together on topics of joint interest. This can be through setting up a webinar series on an emerging topic, writing joint publications, collaborating on grants or projects or developing policy advice. These groups can use a variety of different ways to collaborate, such as using online meeting rooms or organising face to face workshops. Groups might also arrange to meet in person at conferences or organise their own events. To set up a group you need to become a member of ELSI 2.0 (if you are not already a member) so we can add you to our email lists and connect you with other people. More information is available here.
ENCOURAGE PARTICIPATION: This site, together with ELSI2.0 membership is open to all. If you would like to become involved with ELSI2.0, please become a member.
FOSTER CROSS-DISCIPLINARITY: ELSI2.0 members represent a broad spectrum of disciplines, with backgrounds in the social sciences, pure science, medicine, policy, ethics and law, as well as patient advocacy groups. As well as collaborating with interdisciplinary colleagues within the consortia, from this site you can click on the banner at the top of each page to explore the Global Health Network more widely, and learn about other initiatives for global collaboration in healthcare and research.
Key Publications
You can find out more about the background and objectives ELSI 2.0 in this article:
Please click here to become a member today.